Dr. James "Jim" Jenkins passed away in May, 2018. He was an incredible friend and historian, well into his eighties, and we miss him every day. Please read our article in honor of his life and spirit.
Retired school administrator Jim Jenkins has decades of experience teaching and guiding the children of South Carolina and neighboring Georgia, making him somewhat fearless. An octogenarian, he is remarkably unafraid of approaching new technologies and believes that continuing to learn and develop interests throughout life keeps one engaged with the world. An explorer at heart, Jim takes his camera wherever he travels – capturing the scenic beauty and fascinating history he encounters along the way.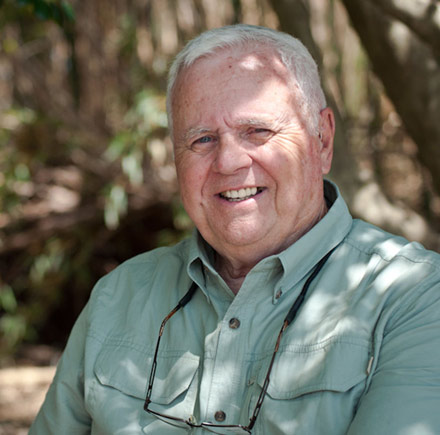 Dr. James "Jim" Jenkins • Do Not Use Without Written Consent
Jim's background in education also lends to his desire to know more, and when he submits photos to the South Carolina Picture Project, they are often accompanied by extensive research. One of the things we love most about Jim is his willingness to walk up to locals and ask them their stories. In this way, he is able to share the history of our treasured landmarks "from the ground up."
Jim has lived all over South Carolina and is connected with a variety of people willing to provide him with a insight on places that are otherwise difficult to research. And like a true educator, what Jim learns, he is eager to share with others so that their world, too, can be enriched.
Finally, we have to note that Jim is one of the sweetest men you will ever meet, and it is a true honor to work with him. When we count our blessings, as they say, we really do count him twice!
Jim in His Own Words
---
Hometown: I am a Chesterfield, SC native, and while we lived in different locations we always returned to Chesterfield. I spent my formative years there and a number of people were instrumental in my early development. Chesterfield was a safe and nurturing environment when I was growing up in the 40s and 50s. I love my hometown and have always tried to support it regardless of where I have lived. My family is buried there, and unfortunately most of my trips home now are for funerals of those families that supported me when I was young.
Family: My immediate family consisted of my parents, Ulysses and Bessie Lee Mangum Jenkins, a younger brother who only survived two months, and two lovely sisters, Marilyn Jenkins Boyce and Kathryn Jenkins Nichols, who are several years younger than I. My sisters remain an active part of my life and I love them for the support they provide.
In 1960 I married Marion Kahrs, a Newberry College graduate from North Charleston and we had two children, Cheryl Jenkins Guy and Steve Jenkins. Marion died from breast cancer in 1972. I married Lynn MacLellan Laird and she had a daughter from a previous marriage, Michelle Laird, and we had a daughter, Elizabeth Leigh Jenkins in 1974.
Our family consists of mine, yours, and our children but they have blended into a lovely family unit which now includes grandchildren, Joe Guy, a Clemson University junior, and Marilyn Faye Guy, a junior at Westwood High School in Blythewood, SC, and Sarah Jenkins, a junior at UGA, and James Jenkins II, a senior at North Oconee High School in Bogart, GA.
Work: Through the years I had a number of jobs that included paper boy, service station attendant, grocery store clerk, veneer plant splicer, farm crop estimator, and funeral home attendant. All of these jobs influenced me in different ways; working with the public provided me the opportunity to meet many people from all walks of life. Working as a splicer in a veneer plant taught me that there must be a better way to make a living. Working as a funeral attendant taught me how to deal with people in difficult circumstances.
So, what did I do? I joined the Army. After serving two nine-month tours in Korea, I enrolled at Newberry College and completed my undergraduate degree. I began my career as a teacher and coach at Swansea High School in 1959. One of my greatest joys was when I was able to return home to Chesterfield High School as teacher and coach from 1962-1965.
I quickly learned that no matter how well you are liked, as a coach you are evaluated on wins and losses. I turned to administration as my favored line of work. I continued my education at the University of South Carolina and eventually earned my Doctorate in Education Administration degree in 1977, all while working in and around Columbia, SC.
We lived in many areas of the state so I have friends and acquaintances all across South Carolina and I appreciate the influence they have had on my life. I retired in SC in 1988 after having served as Superintendent of Schools at Timmonsville, Lake City, and Boiling Springs, SC. We moved to Barnesville, GA (Lamar County) in 1988, and I served as Superintendent of Schools there for eight years. We then moved to Cleveland, GA (White County) where I was the first appointed Superintendent of Schools. (Superintendents had been elected prior to 1996.) I retired there in 2000.
We moved back to Fort Mill, SC where Lynn completed her retirement, and then we moved back to the Athens, GA area where two of our children, Steve and his family, and Michelle, as well as my sister, Kathryn and her family all live.
Hobbies: When I was younger and still active, my hobbies consisted of playing active sports, softball and tennis. They have been replaced by the camera and the computer as my active pursuits today. I became interested in the computer while still involved in school administration and began to develop limited skills in that area. I have continued to use the computer and try to stay engaged in the learning process. My first project was to do a webpage for my hometown of Chesterfield. A friend and former Technology Director from Lamar County Schools, Dale Royal, taught me enough hypertext computer code, and supervised the development of the webpage for Chesterfield. Because I needed photos of the homes and businesses, I began using a point and shoot camera to capture those shots. As time went on, I became interested in photography as a hobby and I have spent the past five or six years trying to develop the skills necessary to be a better photographer. I have been fortunate to have a number of photos included on the South Carolina Picture Project site. You can see them here.
Favorite Quote: I grew up in Chesterfield Baptist Church and one of the things that they stressed at that time was Bible Study and Bible Drills. So a number of Bible verses come to mind that would be favorite quotes, and directions for how to live with our fellow man. I remember the first time I read Pogo's variation of Oliver Hazard Perry's quote, "We have met the enemy, and he is us," and I thought that was very appropriate. As a freshman at Furman University, I recall that a friend inscribed the Alfred Lord Tennyson quote "to strive, to seek, to find and not to yield" in my annual. Today I think that for politics the quote attributed to Dietrich Bonhoeffer is most appropriate. "Silence in the face of evil is itself evil: God will not hold us guiltless. Not to speak is to speak. Not to act is to act."
Favorite Places: Home of course, will always be first but South Carolina has so many beautiful places it is hard to select a single location. Who could go wrong with "Salt Life" at the beaches, or the history of Charleston and Beaufort, and how about the battle locations of the Revolution and the War of Northern Aggression? The mountains of the Upstate and the wonderful lakes of South Carolina all provide favorite places. My son and his family have a home on Lake Keowee near Salem, SC. That certainly is one of our favorite places today. If you have ever visited Symmes Chapel (Pretty Place) at the Greenville YMCA camp, then it must have left a lasting impression as a favorite place.
Favorite Food: Cornbread, cookies, ice cream, sausage biscuits, cheese grits, shrimp, and watermelon in that order and I try to have a little of each one every day.
Taking Pictures: Like many of the other photographers who contribute to the South Carolina Picture Project, I enjoy finding backroads and out-of-the-way places that don't get much attention in the normal course of events. I especially enjoy taking pictures of old structures like churches, schools, barns, stores, and bridges that are one lightning strike or act of vandalism away from being removed from the scene.
More Photos: See all of Jim's photos in the SC Picture Project!